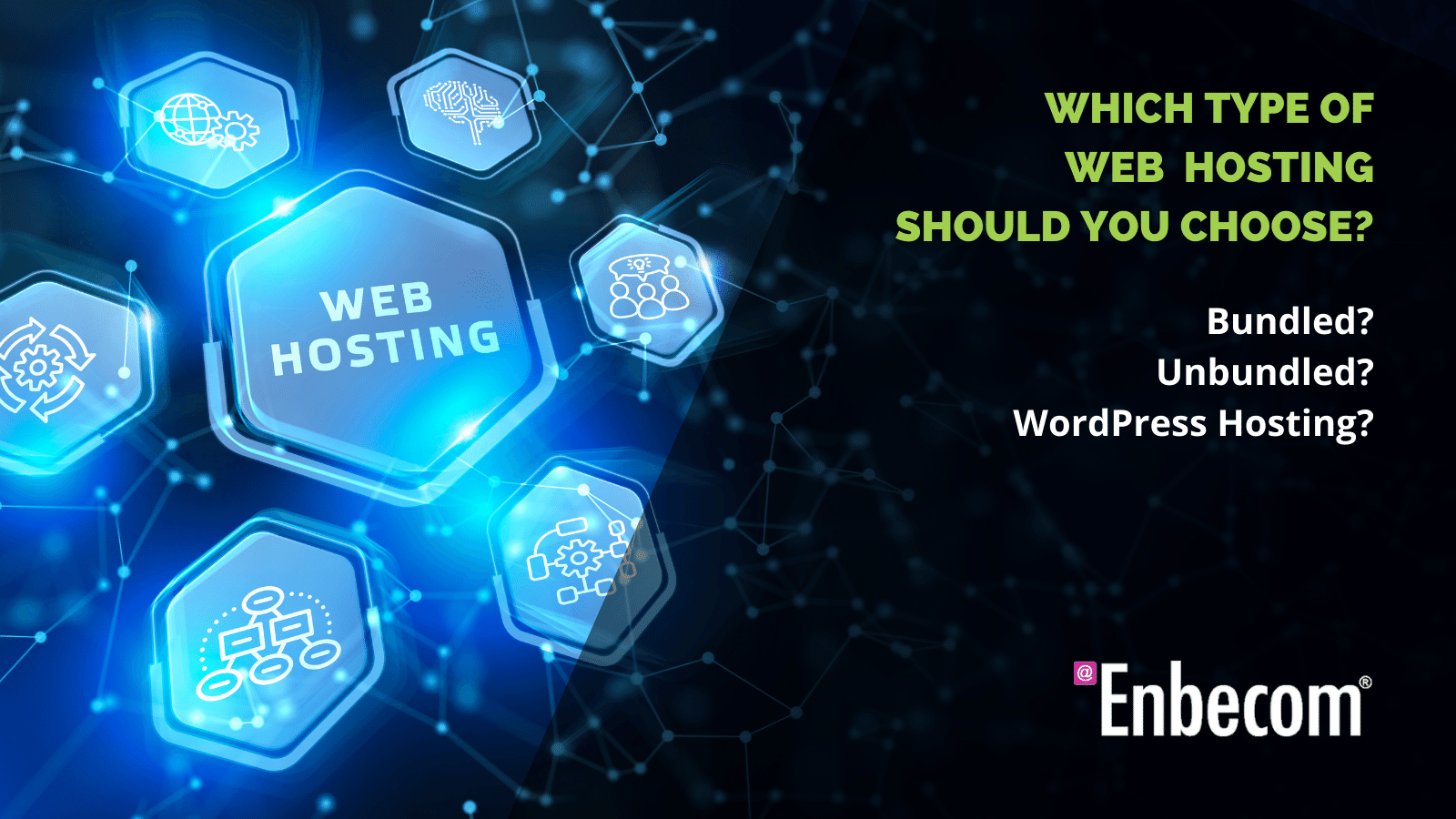 When choosing hosting, and the right web hosting package for your website requirements, there can be so much to choose from in the marketplace. Should you choose WordPress hosting, Bundled or Unbundled web hosting? What's the actual difference between them all? Why should you care?
Here at Enbecom we care about the success of your business, whether you are a web developer, development agency, small ecommerce business, entrepreneur, maybe you are just starting out on your own and need to host your first website, business start-up, or a small, medium, or large business. Our priority is to ensure that your website is running on our hosting platform, without any issues or security concerns and that you have peace of mind, knowing that you are using a reliable and flexible budget friendly UK based company, that has been helping clients with their hosting needs for the past two decades.
We offer three main types of hosting package:
Type
Suitable for

Web and email (bundled) hosting

Small through to large businesses, SME's, web developers, entrepreneurs, e-commerce trading and bloggers will benefit from choosing from one of the six tiers. Prices start from as little as just £5+VAT for the whole year! Our most popular tier is £4.99 per month or £49.99 per year. (+VAT)

A reliable hosting service for a variety of e-commerce and informational websites. Includes PHP, MYSQL, SFTP and more. Suitable for Drupal, WordPress, Magento and many more content management and e-commerce platforms, plus 'static' HTML websites. You can also add an easy-to-use drag and drop website builder and many other features. 

Unbundled Hosting

This is a flexible option and suits those clients who want to choose the features they need and not pay for the ones they don't. There is a base allowance of web space and data transfer, so you can get started for £1 + VAT per month.

WordPress hosting

Professional hosting and site management for WordPress - WP6G - Enbecom

Depending on your requirements, there is a choice of 3 tiers which would be suitable for businesses and development agencies. Prices vary per tier, starting from £99.99 per year or £9.99 per month up to £475 per year or £49.99 per month (including VAT). Some of the key features include:

Easily clone and back up your websites
Manage important software updates to help keep your sites secure
Install and activate a WordPress website with a variety of themes and plugins within a couple of minutes
Debug and maintenance mode options
Each type of package above has a variety of tiers and key features to choose from dependent on your online requirements, at a range of prices to suit. You can find out more detail on which hosting package will suit your website hosting needs by selecting one of the links above.
So why choose Enbecom instead of another web hosting company?
As a UK-based web hosting company, we have been successfully offering feature-packed, reliable and flexible high quality hosting since 2002. We actively manage our hosting servers to run the latest underlying software like PHP 8 (PHP 8.1 coming to our servers in December 2021). We like to ensure peace of mind for our clients, and so our priority is to provide a hosting service that is, secure, reliable and flexible. By choosing Enbecom to host your website, you could also be helping the environment at no extra charge to yourself.
How will you be helping the environment?
Enbecom likes to take a "climate positive" approach to the operation of the business. We work with Ecologi to offset our carbon emissions (CO2), by supporting climate projects, including tree planting. For each new sign up or renewal of most hosting plans and on selected invoices, once payment is made, we will plant a tree in our forest (our virtual collection of real trees around the world). We've already been involved for several months and have over 1,350 trees now planted in our forest.
There are no charges to clients for any of our hosting and invoice based tree planting - it's just a little eco-friendly bonus - but we welcome any extra contributions to our impact. For more info check out this link to our earlier blog.
So, if you want more help in choosing a package then you can chat with us today or visit our Bundled, Unbundled or WordPress plan pages to have a more detailed look at the options.
22nd October 2021
Please note that articles are correct at the time of initial publication but are not usually updated.