Have you been thinking about setting up your business or maybe even an online side hustle but keeping putting it off?  When is the best time to start a new online business?
In the last 18 months with the COVID-19 pandemic there has been a huge shift to online shopping and working from home.  It's still not too late to tap into this customer base.  Don't keep putting off that side hustle or new business venture, it's time to start today and especially as Black Friday and the festive season is just a few weeks away, you don't want to miss out on potential sales.
Businesses who have an online presence will be experiencing an increase in sales over the next few weeks as people look for Black Friday deals and Christmas gifts.  According to Reuters, a recent study by personal finance start up Credit Karma, about 70% of Brits say they now prefer to shop and buy online, swapping the queues and crowds for home delivery.
Keeping this in mind, it seems that to stay successful you need an online presence and not only that, you need to stand out from the crowd as it's a competitive market out there.  Don't worry, you haven't missed the boat just yet.  There is still time to start selling online before Black Friday on Friday 26th November 2021.
We want to help your business be an online success before Black Friday, and so we are offering you an exclusive 40% off any of our hosting plans for the first two years, if you sign up for an annual subscription before Black Friday.  Use code: PREBF2021ANNUAL5B at checkout. 
Or, we also have a special Pre Black Friday discount of 20% off selected hosting plans for the first six months when you choose to pay monthly.  Use code: PREBF2021MONTHLY5B at checkout.
Both offers are due to end one day before Black Friday at 23.59 on 25 November 2021.  These offers are open for any new hosting plan signups to new and existing customers (renewals / existing plans excluded).  Full details Ts&Cs on enbecom.net
If you are looking to get started with your new online business, here are some of the main steps to consider as you begin with your set up.
Step One: Choose a domain name
Choose a short domain name that will be easy to remember and will help you build your brand.  Your domain name is your business's virtual address that your customers will use to find you so keeping it short and memorable will really help you stand out.  We can help you choose your domain name.
You can choose to end your domain with .co.uk or .com .net or one of the many others.  If you are based in the UK and are targeting the UK market, you may want to consider a domain name ending in .co.uk.  You can choose from the long list of different options (we have over 250 to choose from!) and all the domain names are checked in real time so that you will not miss out.  Here at Enbecom we offer one FREE .uk domain for the first year when you buy a Silver, Gold or Platinum hosting plan billed yearly (more on this in tip 2),
Let's see now if what you want is available and then you need to register it, so no one else can have the same name.  Don't worry, we can help you as Enbecom will help you check that the domain name you want is available and then you can simply register the domain name and move onto the next step which is to add web hosting.
If you have already registered a domain name but would like to transfer it to us, Enbecom can help you through the process.
Step Two: Choose your web hosting
Once you have a domain name sorted and registered, the next steps we recommend is to choose is hosting plan.  As we already mentioned if you buy a Silver, Gold, or Platinum hosting plan with Enbecom, we provide one FREE .uk domain for the first year on our annual billing plans.
Why is web hosting important?
There are quite a few options when it comes to selecting a web hosting package.  Should you choose WordPress hosting, Bundled, or Unbundled hosting?  What's the actual difference between them all?  In order to answer these questions it can depend on what your needs are, whether you are a web developer, development agency, small ecommerce business, entrepreneur, maybe you are just starting out on your own and need to host your first website, business start-up, or a small, medium, or large business.  Every type of business needs to run on a hosting platform.
Enbecom can ensure that whether you are building your very first website or 100th one, your website will run on our hosting platform, without any issues or security concerns and that you have peace of mind, knowing that you are using a reliable and flexible budget friendly UK based company, that have been helping clients with their hosting needs for the past two decades.
To learn more on how to choose which web hosting package would suit your business needs we have detailed everything you need to know here in a dedicated web hosting blog.  This will explain what types of web hosting are available and which will suit your business needs.
The good thing about choosing a web hosting plan with Enbecom is that you will be helping to tackle climate change at no extra cost to you.  With most of our hosting plans for every sign up or renewal we will plant a tree (sometimes two).  You can view our virtual forest and see how we work with Ecologi to help offset our carbon emissions by supporting climate projects, including planting trees.
Step Three: Build your new business online by creating a website
The good thing about building a website in 2021 is that you don't need to worry about writing code or have any real technical skills.  Today anyone who can type and knows how to use a computer can create their own website in a matter of minutes.  Adding your great content is as easy as typing in a Word document.
What you want to promote or sell online will shape the look and feel of your new website.  One of the easiest ways to get started and choose what you want is by using a drag-and-drop site builder which can have various ecommerce or blog features.  You can choose from professionally designed set templates or build your own from scratch with the drag and drop features.  Weebly is a great website builder and is very versatile with over 40 million entrepreneurs and small businesses using Weebly to build their online presence with a website, blog or e-commerce store.  Weebly's drag and drop website builder makes it easy to create a powerful, professional website without any technical skills.  You can learn more about Weebly and which package would suit your business or blog requirements on our site.
We also support the WordPress website platform in a big way, with dedicated hosting plans which included loads of pro tools to build and launch a website.
Alternatively, if you haven't got the time to set the website up yourself and want some help with creating your new website with content writing, we can help create a website for you along with sourcing your domain name and web hosting.
Step Four: Keeping your new website backed up, secure and protected
Pretty much like any computer document that needs saving and protecting, your website will need the same protection from data loss and corruption, as well as viruses, hackers, malware and other security threats.  There are a few things you can do in order to keep your website secure and safe.
We recommend two companies to check out, SiteLock, the global leader in website security, and CodeGuard to back up your website daily.
SiteLock provides simple, fast and affordable website security to websites of all sizes.  The company protects over 12 million websites worldwide.  The SiteLock cloud-based suite of products offers automated website vulnerability detection and malware removal, DDoS protection, website acceleration, website risk assessments, and PCI compliance.
CodeGuard Website Backup can ensure your website is backed up daily and if disaster strikes, you can restore your site to a previous point in time at the click of a button.  you can learn more about CodeGuard here.  
On another note, you may also consider securing your own web browsing and internet connection in order to shield your own private data.  You may have heard the term VPN, or Virtual Private Network.  Simply put, a VPN is a tool that protects your online privacy and keeps your location and traffic hidden.  There are many reasons to use one, from evading hackers, to staying safe, or to accessing international video streaming content.  With Enbecom our VPN works anywhere, allowing your access to the video streaming and social networks, sites and apps you love.  Plus fast speeds for easy browsing and no more buffering or long waits.  To learn more about how a VPN can help, you can learn more here.
Step Five: Launch your website
Once you have completed the other four stages it's time to launch your website.  If you are launching an e-commerce store, hopefully you can do this before Black Friday or prior to the festive season getting into full swing.
Things to keep in mind for an online store;
Make sure you have set the prices for your products.  If you have been operating your business for a while then this should be straightforward.  However, if this is the first time of running a business online then you may want to consider some of the following points;
Regular price check
Competitor pricing
Industry markups
Shipping costs
Once you've set the regular prices for your products, it's important to keep an eye on your pricing and check regularly to ensure that your pricing is competitive and profitable for your business.
It's always good to keep an eye on the competition prices and see what they're charging in comparison to your business.  There will always be industry mark ups and so keep this in mind.
You may also want to factor in shipping costs on the prices of your products, so that you can include a 'free delivery' option to your customers.  Or add the shipping costs directly.  This is crucial to get just right with a good mark up as when you are setting the prices for your store, your sales could cost you money if you're losing money on the cost of shipping.
As we have already mentioned, Black Friday is just around the corner and so you may want to consider a discounting strategy and perhaps a week lead up to offering some special Black Friday discount specials.  You could also do the same for Christmas and New Year sales too.
Step Six: Keeping your website current and fresh
Once you have your website up and running, it's important to ensure that you update your website regularly with new content and blogs.  It would also be beneficial to help promote your website using Search Engine Optimisation (SEO).  If you don't have the time to regularly update your website with weekly blogs, you may want to consider getting expert help with writing new content.  There are many social media plans that can help you with all your social media requirements from daily post on Twitter an Facebook to regular compilation  of blog articles, adding new products to your e-store, and adding photos to other social media platforms like Instagram.  To find out more, here is some information.
Step Seven: Regular email engagement with your new and existing customers
So, you have your new website and new content, but you need to ensure you keep your customers up to date and let them know about any special promotions you are running. or maybe inform them about a new blog you are posting.  Compiling great email campaigns will really help engage with your customers.  You might also want to automate the sending of some emails maybe a couple of days and a month after someone signs up for your email list.  You don't want to bombard your customers with constant emails, and so just a few emails a month or quarter might be enough. 
If you don't have time to do this you can choose a professional email plan like Email 500 if you just want to send less than 500 emails a month.  Or if you are a large business or blogger and need to send up to 15,000 emails on a monthly basis then something like the Email+15000 option could be ideal to meet your email campaign and automation needs.  You can learn more about Email marketing here.
Step Eight: Healthcheck for your website
Just like a car needs a regular MOT test and service, or we need to visit the doctors to ensure we are in good health, so too does your website need regular check ups.  It's worth giving your website an annual full-on check-up to make sure it's as effective, powerful, and reliable as possible.  Learn more about the Website Healthcheck.
As mentioned earlier, if you want to get started on your new website today and launch before Black Friday, then don't forget that we are offering an exclusive 40% of any of our hosting plans for the first two years if you sign up for an annual subscription.  Use code: PREBF2021ANNUAL5B at checkout.
Or, we also have 20% off selected hosting plans for the first six months when you choose to pay monthly.  Use code: PREBF2021MONTHLY5B at checkout.
Offers for both promotions are open to new and existing customers on all new plans (excluding any existing plans and renewals), run until 23.59 on Thursday 25 November.  Full details, Ts&Cs on enbecom.net.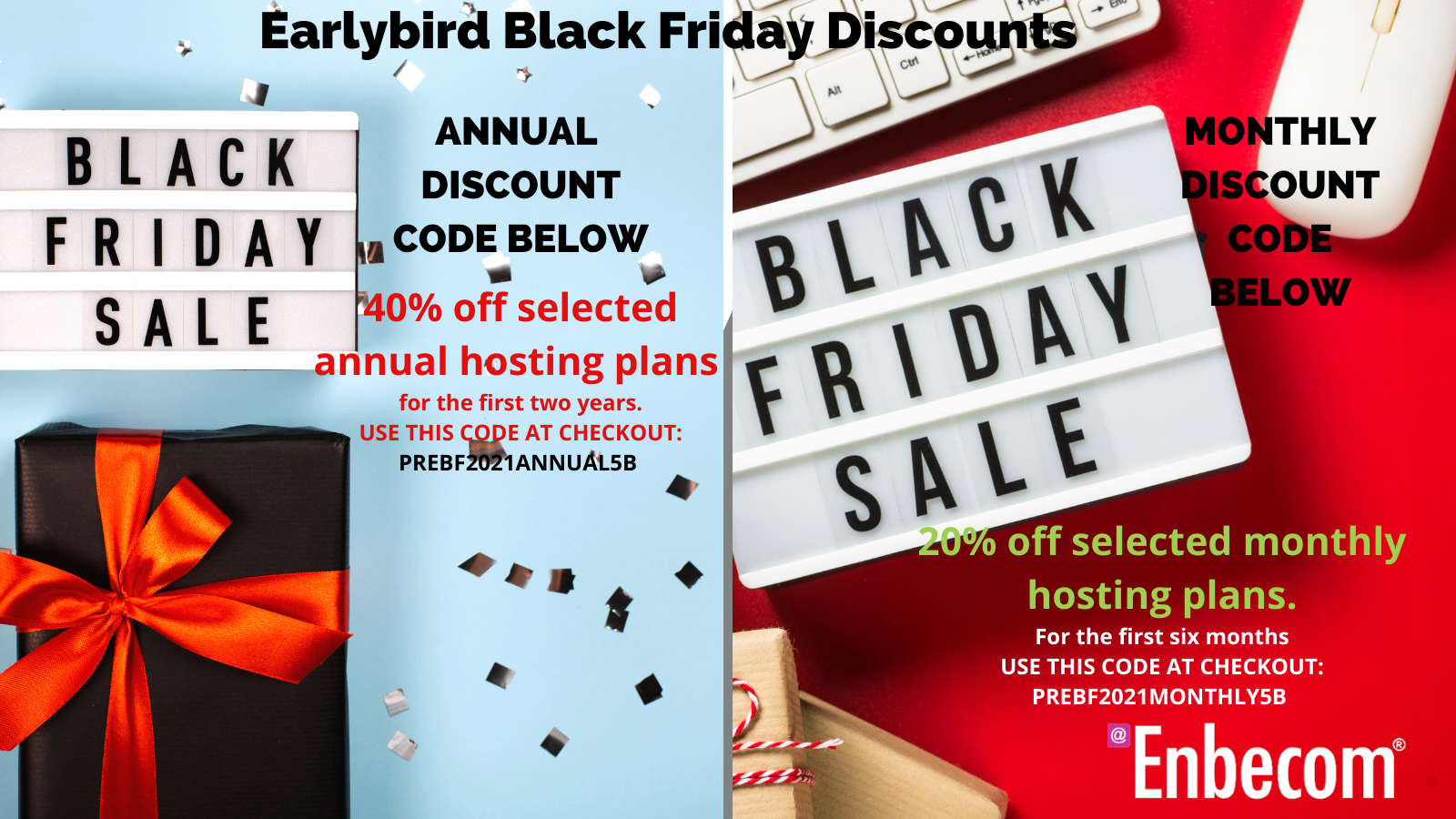 13th November 2021
Please note that articles are correct at the time of initial publication but are not usually updated.